Pools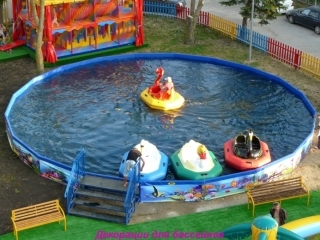 Specifications
Model
Pools
forms
square, circle, rectangle
Prefabricated pools are a set of all the necessary elements for the organization of the amusement with electric boats "Aquadrome" in any place: in the park, on the beach, or on the waterfront in the town square. We offer several types of pools, the choice depends on your desire, or the size of your platform:
multangular
rectangular
round
oval
"eight" shape
Each of this type has its own advantages and disadvantages; more detailed information is available on the website. All our pools are simple to assemble and install, and they are designed so that their transport and storage is also not difficult. In any set of modular pool it is included a set of metal constructions, powder paint coated, and the insert - waterproofing, and assembled 2-meter berth.
Additionally, you can order board decoration of the pool, decorative back or side wall, the filter system and a larger berth. When selecting the size of the pool it should be noted that for operation of one of the bumper boats "Mustang" or "Junior" it is needed 20-25 sq.m. area of the basin, and for electric boats "Swan", "Pelican", "Duck", "Pirate", "Dragon", "Crocodile", "Dinosaur" or "Scooter" - 25-30 sq.m.
In the production program of the company RIF®There are several types of small amusement parks. This allows assembling a mini-park on the street, on the waterfront or in the entertainment centre. Low initial cost, minimal maintenance costs, ease of storage and long life are the main advantages of park amusements from RIF®. Additional reasons for choosing our production:
easy to transport;
all the amusements are assembled, and dimensions of parts from which they are made let you carry our amusements with the ordinary technique, without specific requirements for transport;
simplicity of assemblage;
all the amusements are provided with very detailed instructions and labelling that allows you to collect your own amusement, excluding the additional costs of supervision;
almost all models are universal, ie available for children and adults;
amusement equipment - considering the wishes of customers, RIF®completes its attractions with all the necessary - repair kit, pumps, fans, hoses, all kinds of adapters and spare parts. All of this delivered as a set, that is, when buying amusement RIF®client does not arise unexpected and unpleasant need to pay extra for something;
for special orders, we will offer you amusements on your size, configuration and completeness. You can choose a colour palette as well.
Constant communication with customers enables us to improve our amusements using their experience in the operation and constructive criticism. As a result, we offer you exceptionally reliable park amusements in the very wide range.
Photos
Video