Water slide "Hara Kiri"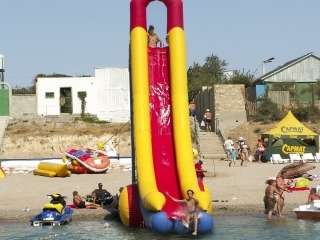 You need strong feelings, then a line of inflatable water slides "Hara Kiri" is for you. This line is with a steeply dipping chute - the most extreme in the production program of RIF®!
From the water slide starting ground of 6 meters, all the more of 8 meters, you will feel real extreme, but this is only for the first time, later it is easier and you would like to repeat it again and again.
We recommend buying a 6-meter slide for use in a single version, and the 8-meter only as part of a complex of several water slides.
Specifications
serie
"Hara Kiri"
code
03200
03201
03202
03203
modification
М8
М8S
М6
М6S
slide length
12,8m
12,8m + 6,2m
10,5m
10,5m + 5,2m
width
2,0m
2,0m
2,0m
2,0m
height
8,0m
8,0m
6,0m
6,0m
Photos
Video