Water slide "Pyramid"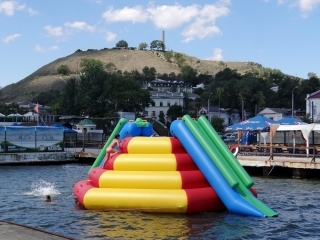 "Pyramid" is an inflatable water slide and at the same time the island on the water, it is always attractive to children, loving all at once: jump, climb and swim.
The complex is an inflatable pyramid, from the top of which you can go down in several ways:
just to go down the stairs;
jump from any level directly into the sea;
go down the inflatable slide.
From both sides of the "Pyramid" you can climb from the water by comfortable handles - steps. During operation, be sure to use the loads or anchors.
Specifications
serie
"Pyramid"
code
03400
03401
modification
P1
P2
length
6,5m
6,5m
width
10,3m
9,0m
height
3,3m
3,3m
Photo