Water slide "Tsunami"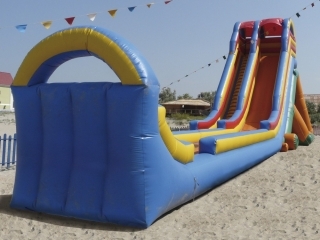 Inflatable slide "Tsunami" is a new extreme version of the waterslide. The rapid descent from the steeply dipping height is a real challenge. The absence at the end of the descent pool of water adds spice to the feeling. We offer new and unusual experience!
And, as usual, everything is included! Get it, inflate, fix and work! Complete independence from the cold water and from any storm!
Specifications
serie
"Tsunami"
code
03350
03352
03351
modification
М5 SL
М7 SL
М6 SL
length
17,7m
25,5m
21,5m
width
6,3m
9,4m
6,5m
height
8,0m
10,0m
8,6m
height of the launch site
5,0m
7,0m
6,0m
Photos
Video