Water slide "Kamikaze"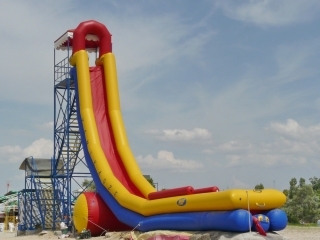 The opened arched chute of "Kamikaze" water slides line is less extreme then "Hara-Kiri" slides line. However, standing on the launch site at a height of 6 meters, not to mention the 8 meters, you would think that the "Kamikaze" is not the name of a water slide, and your destination. And after a couple of minutes you want to experience those feelings again! With all the extremeness inflatable slides of "Kamikaze" line children and adults are very fond of.
The slides "Kamikaze" with "S" index are the inflatable water slides with the pool, which will help you not to depend on the vagaries of the nature. This is the most secure version of extreme slides.
Specifications
serie
"Kamikaze"
code
03250
03251
03252
03253
modification
М8
М8S
М6
М6S
slide length
14,0m
14,0m + 6,2m
11,2m
11,2m + 5,2m
width
2,0m
2,0m
2,0m
2,0m
height
8,0m
8,0m
6,0m
6,0m
Photos
Video